The 2021 Subaru Love Promise Customer and Community Commitment Award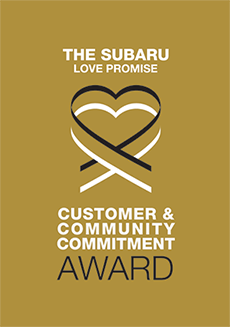 We've been nationally recognized for our dedication to our customers, our community, and the Subaru Love Promise.
We're honored to receive the 2021 Subaru Love Promise Customer and Community Commitment Award. This award nationally recognizes elite Subaru retailers who provide an exceptional customer experience at every interaction with Subaru. These retailers have also demonstrated an outstanding commitment to supporting passions and causes in their local communities in important areas such as the environment, community, health, education, and pets.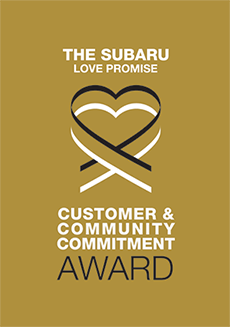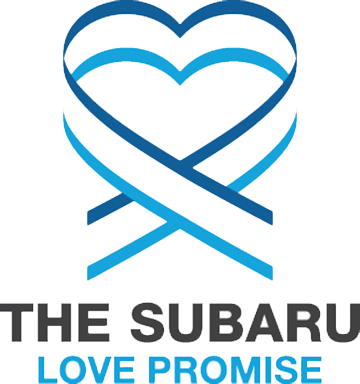 What is the Subaru Love Promise?
Subaru and our retailers believe in making the world a better place and the Subaru Love Promise is our vision of respecting all people. This is our commitment to show love and respect to our customers and to work to make a positive impact in the world.
How is Flatirons Subaru dedicated locally to the Love Promise?
Our Love Promise can be seen in various partnerships with local charities and non-profits. We're grateful for the opportunity, not only to be a part of our community, but to serve it as well.
Boulder High School, Fairview High School, YMCA
There with Care, CU Athletics, Moving to end Sexual Assult, Eldora Ski Resort, Harvest of Hope
Love Promise Stories from Flatirons Subaru
Subaru and Flatirons Subaru believe in making a positive impact on the communities in which we live and work. We uphold that belief through our Love Promise Community Commitment. Every month, we select inspiring stories from customers and partners from around our area who strive to support our collective commitment and feature them here
Book Delivery at Sanchez Elementary School - Scott C
As part of our Subaru Love Promise and the Subaru Loves Learning program, Flatirons Subaru dropped off 200 books for the students at Sanchez Elementary School in Lafayette last week. The students were so excited! #SubaruLovePromise #SubaruLovesLearning
---
Second Wind Fund of Boulder County Emerge 5K - Morgan C
We are proud to be the title sponsor for the Second Wind Fund of Boulder County - Emerge 5K race on May 3rd. All money raised from Emerge 5K, SWFBC matches uninsured or underinsured children and teens who are at risk for suicide with local, licensed therapists, helping cover the cost of therapy. In March, the Colorado Department of Human Services Office of Behavioral Health reported a nearly 50% increase in calls and texts to its crisis hotline compared to 2019. The hotline staff estimated 60% of calls in April were regarding the coronavirus.- A HUGE thank you again to all of you who participated in yesterday's virtual Emerge 5K presented by Flatirons Subaru!!! The turnout we had across the country and across the world was unbelievable! We are truly touched by your support of our mission to get help for children and teens are at risk for suicide. We loved seeing all of your pictures, the costumes, the different locations, and all those Subarus! We really did come together as a community, and that's something to feel pretty proud of - especially in a time where a sense of community can be kind of difficult to attain.
---
Blanket Delivery - Attention Homes - Brian S
Through the Subaru Love Promise, Subaru and its retailers will be donating 50,000 blankets to nearly 600 local homeless shelters across the country in recognition of National Homeless Youth Awareness Month. More than 500,000 Americans experience homelessness each night, and as we enter the season of giving and nights get colder, Flatirons Subaru is supporting Attention Homes to help people in need this winter (especially during this current snowstorm). #SubaruLovesToHelp #SubaruRetailersLoveToHelp #FlatironsSubaru #Boulder #Colorado #Subaru
---
Flatirons Subaru is saving animals' lives - Lindsay S
The partnership between the Humane Society of Boulder Valley and Flatirons Subaru saves the lives of thousands of homeless animals in our community and supports pets of families experiencing the financial impacts of COVID-19 – so that pets and people can stay together. Flatirons Subaru's title sponsorship of HSBV's annual fundraising events and the Subaru Loves Pets adoption event touches the lives of 6,500 shelter animals while providing thousands of pounds of pet food, discounted veterinary services, and emergency boarding to pets families facing a medical or housing crisis – critical services during COVID times. When the animals have a need, Flatirons Subaru is always there. The team at Flatirons Subaru are key partners in our critical work to protect and enhance the lives of companion animals by promoting healthy relationships between pets and people. We are so grateful for the incredible care they make possible for both animals and people – they continue to strengthen our community with their generosity and compassion.
---
new employee Kyle Augustin - Kyle A
Kyle was a new employee at the Flatirons dealership when we purchased our new car. While I had previously owned another Forester I wanted something that had more leg room in the back seat. That is when he promised if we could come and look they had been totally redesigned and I would be surprised. So we went and looked at several other dealerships and talked about many aspects and still not sure what we wanted. So on the next Saturday we went and dove several of the cars, a Forester, Ascent, & Outback. We both loved the way the outback handled and all the fun new features on the Outback. Kyle truly made the purchasing so easy and was always very patient with us as we asked to drive several different vehicles. Kyle took extremely good care of us and walked us back to finance and had communicated to finance ahead of time so that part was easy. We would go back to Flatirons and recommend Kyle for any of our friends.
---
Project Supertraining & Flatirons Subaru - Will D
The Project Supertraining mission is to provide athletes with sporting events as a means to exercise philanthropy. Project Supertraining offers a unique, monthly training ride for recreational and elite level athletes. This is the only fully supported training ride in the country from start to finish that's by recommended donation of $20. Because of Flatirons Subaru's partnership with Project Supertraining, 100% of the donations go to charity. Each month, these donations benefit a different local nonprofit organization. The ride doesn't ask much from participants, which allows Coloradoans to come from near and far month after month. This is truly a well organized, grassroots level event that's become a staple for the endurance community in Boulder, CO - the mecca of training grounds for the USA's best athletes! Last year we raised about $15,000 for local charities, and, with help from Flatirons Subaru, Project Supertraining looks forward to building more events in 2020 and continue supporting nonprofits like There With Care, Second Wind Fund, and Safehouse Progressive Alliance for Nonviolence, Pedaling Minds, Davis Phinney Foundation, etc…The Supertraining ride began with a small group of committed riders convening once a month, offering a $20 donation for the beneficiary nonprofit. When Flatirons Subaru began hosting the ride with its larger facilities, the ride blew up to host as many as 200 riders!Athletes enjoy complimentary coffee and handmade Belgian wafels by Vafels before the ride. A Subaru Outback provided by Flatirons Subaru as the support vehicle outfitted with 25 gallons of water and all the endurance nutrition you could ask for. The ride is challenging - up to 200 kilometers in distance depending on the season and weather - Supertraining welcomes everyone from weekend warriors to the best riders that compete in Grand Tours like the Tour de France, Vuelta a Espana and Giro d'Italia. Supertraining is not for the faint of heart. It's a gran-fondo type of event, but with a low barrier to entry. Following the ride, Flatirons Subaru welcomes riders to stretch out and relax with a catered lunch - a true expression of community support on a Sunday afternoon when auto retailers typically close their doors.One of the benefits of this ride is that it makes an often and otherwise daunting Car Dealership a comfortable and hospitable place for the Boulder community. Flatirons Subaru has become the go-to spot for the group ride, a networking place for cycling enthusiasts in a low pressure atmosphere that doesn't push a sales agenda. I love hearing from athletes how appreciative they are of Flatirons Subaru's help - especially when they say "I bought my car from them BECAUSE of the Supertraining ride," which came Lia E., a frequent participant in the Supertraining ride and Boulder resident. Many thanks to Subaru as always. Big things for 2020!!
---
Flatirons Subaru and SWFBC Give Youth Hope - Jenna C
The team at Flatirons Subaru lives by the promise to spread its love in our community; from the first day I met them, I knew they were a group of individuals that genuinely care about the well being of others. Second Wind Fund of Boulder County's mission is to decrease the incidence of suicide in at-risk youth by removing the financial and social barriers to treatment. The SWFBC Emerge 5k Fun Run is our largest fundraiser every year, and Flatirons Subaru was our presenting sponsor this year. Their donation provided 71 therapy sessions to our at-risk youth with suicidal ideation and helped saved nine kiddos' lives. Our organization would not be capable of serving youth struggling to stay alive in our county without exceptional community partners like Flatirons Subaru; we are so grateful for the kindness and support they have provided our organization.
---
Flatirons Subaru - A Partner in Care - Millicent K
The ongoing partnership between There With Care and Flatirons Subaru brings welcome and tangible support to families in our community living through the critical phase of their child's medical crisis. As a 3-year recipient of Subaru's Share the Love Event, There With Care has leveraged these funds to deliver a wide range of services – Groceries, Prepared Meals, Toiletry Kits, Activity Bags, Baby Essentials and more – to over 1,500 families with critically ill children. Our friends at Flatirons Subaru embody the true spirit of partnership, helping the families we serve in so many ways. Our collaboration allows us to deliver care to those who need it most. On behalf of There With Care and all the families we serve, thank you Flatirons Subaru!
---
Flatirons Subaru & The LSS - Beth M
On July 12, 2018, Flatirons Subaru partnered with The Leukemia & Lymphoma Society to deliver blankets to Rocky Mountain Cancer Centers location in Boulder, Colorado. While the volunteers could not directly interact with thepatients, they did get to meet Quigley, the Rocky Mountain Cancer Centertherapy dog, who happily posed with a blanket.
---
Above and Beyond...thank you Fred! - Annie B
Here's the story--We leased a brand new Subaru Outback in December in Boulder Fred Rudd was our salesman. Our interactions with him were always very friendly and enjoyable. We hadn't been in touch since we finalized the lease until last Friday, Feb 2, when about an hour before we were to pack up the car and head out to a long-planned ski trip, my husband went to go run a quick errand and the car was completely dead. Unsure what to do, he called me. I was working and told him to just call Fred because I couldn't remember how to connect with our roadside service. He did, and within 20 minutes Fred personally came to our house and jumped our car! How's that for service, ehh? And why had the car battery died? Not sure. We actually think it might be a bigger problem because two days prior we lost complete control of the radio/navigation/app/etc panel. Regardless, Fred provided absolutely outstanding service.
---
Great Service - Thanks! - Michael W
The end of May, 2017, the primary belt snapped in our Outback. I called and talked to Jason, who said the next available appointment was on the order of two weeks, but if i could bring it in and leave it the next day, he'd see if he could work it in. I did, he did, and it was fixed by 3:30pm. I've yet to have a bad experience with Flatirons service; this was special
---
Subaru & LLS Deliver Blankets to Cancer Patients - Beth M
Flatirons Subaru, in partnership with the Leukemia and Lymphoma Society, participated in a "Share the Love" campaign to help blood cancer patients at Rocky Mountain Cancer Center - Boulder. Team members from Subaru, LLS and RMCC - Boulder donated 80 warm, fuzzy blankets with care cards and messages of hope from the community. They also delivered 10 care kits to younger patients so the children could draw, do crafts and break away from hospital life. The program is a great way for LLS and Subaru to connect with local hospitals and help blood cancer patients. "It was a rewarding experience to be able to brighten the patients' day and wrap them in love by providing the Subaru blankets! The cancer journey is tough, so to lift their spirits is a wonderful feeling," LLS Sr. Campaign Director Beth Muehlethaler said.
---
Flatirons Subaru Partners in Care - Paula D
We are honored and grateful for the generous support provided to There With Care from Flatirons Subaru and their heartfelt team. Together, they have eased the burdens for families with critically ill children during a fragile time in their lives, giving them more time with it's needed most. They have helped in many ways including: PROGRAM SUPPORT-They have provided a car to There With Care to make deliveries of groceries and needed items to support the family during their crisis. VOLUNTEER-They have volunteered regularly at our Team Chop, where volunteers prepare foods for families that can be easily reheated after long days in the hospital. COMMUNITY OUTREACH-They have promoted our mission and partnership through on-line media, website, social media, newspaper, television ads and signage on the dealership floor. IN-KIND DONATION-They have provided a donation of a vehicle for a There With Care family to ensure they can get their young son who is critically ill to treatments. SPONSORSHIP-They have provided event title sponsorship to help underwrite the cost of the annual signature event and golf tournament, that helps raise nearly one-third of the annual revenue allowing more resources to directly help the families. DONATE FINANCIAL SUPPORT-They have included There With Care in their Share the Love campaign, helping to raise awareness about the organization and to provide support for the programs with a generous gift of $60,000.
---
Flatirons Subaru Supports Circle of Care Project - JOAN R
This is our second year in supporting the Circle of Care Project. The founder, Joan Raderman, has been a Flatirons customer for many years and when it came time to choose a local charity, she was our first choice. Joan uses her Subaru to assist the elderly in attending the theatre and the arts. The $10,000 she received has gone a long ways in helping even more clients. This picture really says it all.
---
Flatirons Subaru Proudly Supports Teen Safety - don s
Every year, Flatirons Subaru gives away a used car during the, "After Prom" party at the 2 local high schools. This encourages students to stay at the prom, overnight, rather than attend parties outside of the school and risk driving tickets or underage drinking dangers. A name is pulled at the party and a student actually wins a car! It has become a huge tradition and we try to find a "fun" car that a high school student would love to drive.
---
Flatirons Subaru Sponsors Moving to End Sexual Assault - LORA B
Flatirons Subaru has been the major sponsor of MESA, Moving to End Sexual Assault, for the past several years. MESA's mission is to end sexual assault and the suffering it causes in our community. The largest fundraiser for Mesa is the annual Canine Classic, a 5K run/walk, dog friendly event, with all proceeds going to MESA. We look forward to this fun event every year and the community continues to make this a bigger and bigger event. Flatirons Subaru is proud to be part of this outstanding charity.
---