The 2023 Subaru Love Promise Customer and Community Commitment Award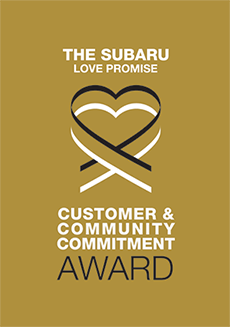 We've been nationally recognized for our dedication to our customers, our community, and the Subaru Love Promise.
We're honored to receive the 2023 Subaru Love Promise Customer and Community Commitment Award. This award nationally recognizes elite Subaru retailers who provide an exceptional customer experience at every interaction with Subaru. These retailers have also demonstrated an outstanding commitment to supporting passions and causes in their local communities in important areas such as the environment, community, health, education, and pets.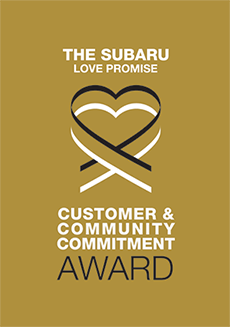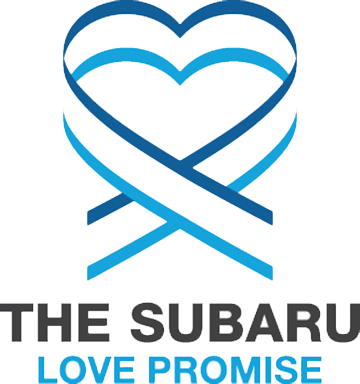 What is the Subaru Love Promise?
Subaru and our retailers believe in making the world a better place and the Subaru Love Promise is our vision of respecting all people. This is our commitment to show love and respect to our customers and to work to make a positive impact in the world.
How is Flatirons Subaru dedicated locally to the Love Promise?
Our Love Promise can be seen in various partnerships with local charities and non-profits. We're grateful for the opportunity, not only to be a part of our community, but to serve it as well.
Boulder High School, Fairview High School, YMCA
There with Care, CU Athletics, Moving to end Sexual Assult, Eldora Ski Resort, Harvest of Hope
Love Promise Stories from Flatirons Subaru
Subaru and Flatirons Subaru believe in making a positive impact on the communities in which we live and work. We uphold that belief through our Love Promise Community Commitment. Every month, we select inspiring stories from customers and partners from around our area who strive to support our collective commitment and feature them here
Boulder Homeless Shelter - Spencer D
We are grateful for Flatirons Subaru and their participation in the 28th Annual Boulder Shelter Golf Classic! Thanks to them, it was a great success, raising more than $47,000 to support the critical services provided every day to adults experiencing homelessness in our community. The team at Flatirons Subaru generously sponsored $7,500 to support the Shelter in conducting this work and fulfilling our mission: to create avenues to stable housing for our community's homeless adults, from a foundation of supportive and safe shelter. We couldn't do this without them!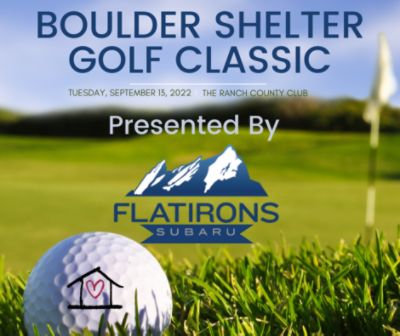 ---
Supertraining 2022 - Will D
When Flatirons Subaru began hosting the ride with its larger facilities, the ride blew up to host as many as 200 riders! Because of Flatirons Subaru's partnership with Project Supertraining, 100% of the donations go towards benefiting a different local nonprofit organization. They are generous enough to provide us with a Subaru Ascent, catered lunch for the riders, and a great facility where riders can stretch out and relax. One of the benefits of this ride is that it makes an often and otherwise daunting car dealership a comfortable and hospitable place for the Boulder community.

---
Jeff's Epic Road Trip - Steve C
Shortly after adopting my dog, Jeff, we discovered he had a murmur in his heart. Not knowing how long Jeff has left in this world, I decided to take him on a journey of a lifetime to see the world and its beauty. The team at Flatirons Subaru was kind enough to provide Jeff and I a Subaru Ascent for our trip across the west coast. Their kindness and understanding meant the world to Jeff and I, and we were able to travel in comfort and style thanks to their support. Thanks again, Flatirons Subaru, for making our trip a success and for providing us with the support we needed.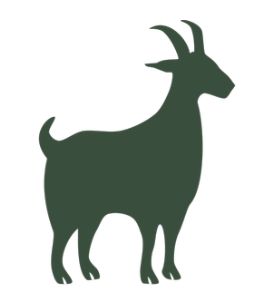 ---
Big Hearts for Pets and People - Lindsay S
Flatirons Subaru has changed the lives of thousands of pets in our community through their partnership with the Humane Society of Boulder Valley. Scott, Brian, and Morgan are there whenever we need them to help shelter animals in need, and they support safety net services for families facing hardship to keep pets in their loving homes. Through Flatirons Subaru's title sponsorship of HSBV's annual fundraising events, Puttin' On The Leash and Doggie Dash, they help us generate critical funds to serve as many animals as possible. In October we celebrated Adopt a Shelter Dog Month by hosting another successful Subaru Loves Pets adoption event. Flatirons Subaru stepped up to generously sponsor discounted adoption fees for harder to adopt pets, with the goal of finding these animals loving homes more quickly. Over the course of the weekend, 43 special animals found new homes. One animal in particular – eight year old Estrella – found her new beginning after a long journey. When this senior German Shepherd arrived at HSBV, she was overwhelmed with worry from all the changes she was experiencing. As our team worked to earn her trust with treats, gentle pets, and giving her as much choice as possible, her sweet self began to shine through. Within the first couple of days, our veterinarians discovered she was suffering from several painful medical conditions that needed immediate treatment. Our team got to work providing much needed dental extractions, medications for a bad ear infection, a spay surgery, along with a microchip and a much needed bath. Finally feeling better, Estrella's personality truly blossomed. Soon, a wonderful family adopted Estrella after seeing her during the Subaru Loves Pets Adoption Event to let her live her golden years free of pain and full of life in her golden years. Thank you, Flatirons Subaru, for showing up for pets and people in our community when they need it most.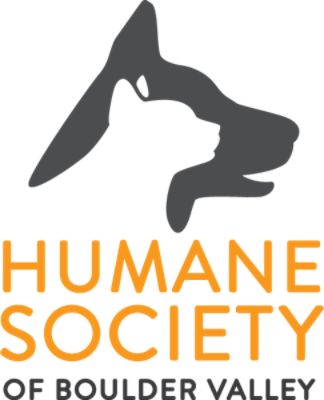 ---
Subaru Loves Pets Humane Society of Boulder Valley - Marcie R
Subaru Loves Pets, and HSBV Loves Subaru! The partnership between The Humane Society of Boulder Valley (HSBV) and Flatirons Subaru saves the lives of thousands of animals in need throughout our community and supports pets of families experiencing financial hardships so that pets and people can stay together. Flatirons Subaru's title sponsorship of HSBV's annual fundraising events, Puttin' on the Leash and Doggie Dash touch the lives of thousands of animals in Boulder and beyond. This past October we celebrated Adopt a Shelter Dog Month by hosting another successful Subaru Loves Pets adoption event. Flatirons Subaru generously sponsored discounted adoption fees for adult animals 3 years and older, with the goal of finding loving homes more quickly. Over the course of a special weekend, our community came together to welcome new canine and feline companions into their families. Thanks to the generosity of Flatirons Subaru, we were able to celebrate the love of dogs (and all animals!) throughout the entire month. Thank you, Flatirons Subaru, for helping animals find their new, loving homes!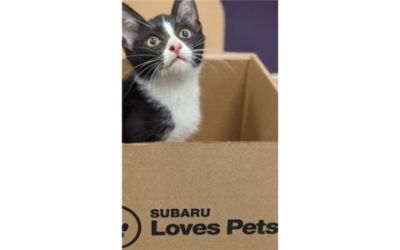 ---
Rise Against Suicide + Flatirons Subaru = 💙💙 - Jenna C
For the second consecutive year, our signature fundraising event, our EMERGE 5K has been disrupted by Covid-19. Flatirons Subaru has again teamed up with Rise Against Suicide to help give youth hope throughout the greater Boulder County area. They not only were the principal sponsor of our virtual 5K, they opened the dealership early on a Sunday morning to broadcast a video of our opening ceremony! Their dedication to preventing youth suicide is heartfelt and they continue to be a fantastic community partner. We are grateful for their partnership in raising awareness and funds to provide therapy to at-risk youth.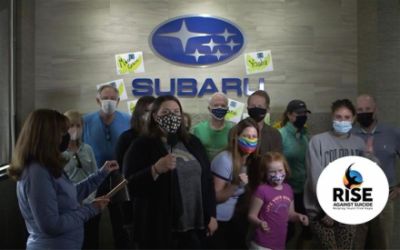 ---
Flatirons Subaru supports the Canine Classic - Lindsey B
Flatirons Subaru provided the main sponsorship for Moving to End Sexual Assault's (MESA) Spring fundraiser, the Canine Classic. The Canine Classic is a 5K run or walk where participants are encouraged to complete the 5k alongside their dogs. MESA is the sexual violence resource center serving Boulder County. MESA provides support and services through a 24-hour hotline and text line, victim advocacy, group therapy, sexual violence prevention education, and custom trainings within the community. Through Flatirons Subaru's generous support, MESA raised over $12,000 to support our services. Since the Canine Classic in April, MESA has served 340 individuals through the hotline and text line and provided over 50 survivors with ongoing advocacy support. One recent survivor stated: "I felt so much better having talked with an advocate. I know the next steps to take and know that I have support. I'm grateful this resource is here." Thank you, Flatirons Subaru for supporting MESA's mission and reach in the Boulder community.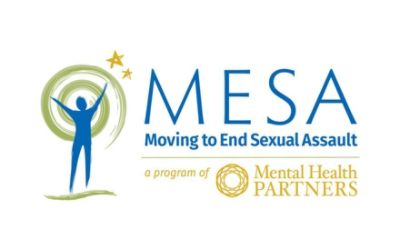 ---
Caring for our Community with There With Care - Olivia A
There With Care is so grateful to partner with Flatirons Subaru to provide care and comfort to families facing a child's critical illness. Through event sponsorships, the Subaru Share the Love campaign, volunteering, and so much more, the support from Flatirons Subaru ensures that hundreds of families a year receive essential food, transportation assistance, and supplies during a medical crisis. In the face of a pandemic, their support never wavered, and that support was crucial in serving a record number of 720 families in 2020. The team at Flatirons Subaru are not just supporters – we consider them part of the There With Care family, working with us every step of the way to bring love and care to local families and helping them feel supported during an incredibly difficult time.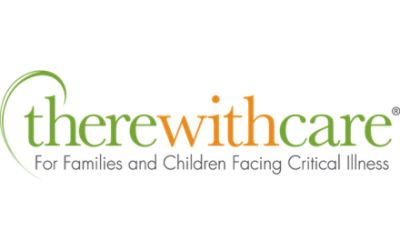 ---
Flatirons Subaru has the heart of a Buffalo! - Lisa V
Buffs4Life is a non-profit of University of Colorado alumni athletes helping other alumni athletes in need, with a emphasis on mental health and suicide prevention. Our mission is simple...BUFFS HELPING BUFFS! We can't think of a more perfect partnership in the Boulder community than Flatirons Subaru. Without their support, our annual Fun Run, the Kyle MacIntosh Memorial 5K, would not happen. There is never a hesitation when it comes to supporting this event or Buffs4Life in general. Flatirons Subaru truly has our appreciation and the heart of a Buffalo!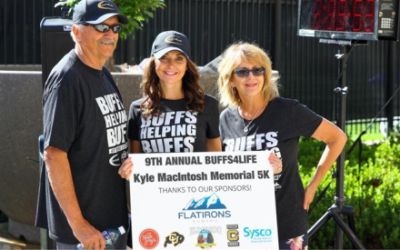 ---
Book Delivery at Sanchez Elementary School - Scott C
As part of our Subaru Love Promise and the Subaru Loves Learning program, Flatirons Subaru dropped off 200 books for the students at Sanchez Elementary School in Lafayette last week. The students were so excited! #SubaruLovePromise #SubaruLovesLearning
---